Intimate Wedding
Requires full reservation of the 5 rooms of the B&B (room rates + taxes), 2 days in the Bride's room, plus $1,600 for use of the gazebo and dining room, as well as snack tray & chilled sparkling cider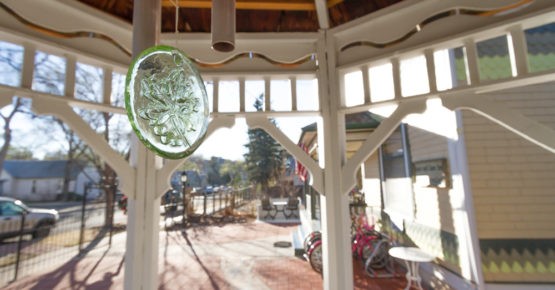 Wanting a small wedding at a unique location? Spurs n Lace is perfect. The ceremony, to be arranged by the bride's wedding planner, will occur at our gazebo, with a reception for a limited number of guests in the yard. Light food and drinks, arranged by the wedding planner, will be served in the dining room. The Bride's room (Mountain View Premier Room) will have flickering candles, a snack tray, and a bottle of sparkling cider.
Planning & Onsite Coordination by the Wedding Planner (arrangements by and paid by the guest):  Booking & coordination of vendors, creation of a wedding day schedule/timing.  Information about the Colorado marriage license (how and where to obtain it), transportation, spa, hair & make-up services.  Onsite: guiding you through the wedding day, including the ordering, pick-up and delivery of flowers & wedding cake and synchronization of wedding day events & vendors.
Clergy: Obtained by either the Bride or the Bride's Wedding Planner. Gratuity paid by the Bride
Use of B&B's Gazebo and yard
Use of B&B's dining room for set up of food and drinks, including use of the B&B's vintage punch bowl with 32 cups
Requires full booking of the 5 bedrooms of the B&B for bride's family and limited friends
Use of the bride's bedroom (sleeps up to three: Queen bed plus Twin size Day Bed) for dressing, etc.
Candles arranged around the bride's bedroom
A cheese and fruit snack tray each full day
A bottle of sparkling cider each full day
Home-cooked breakfast for up to 12-people
Before selecting a Getaway Package to create a future memory, please note the following restrictions:
Packages prices below do not include the room or taxes
Packages must be paid in full at time of booking and are non-refundable
Packages need to be reserved at least three days prior to arrival
2-Night Stay, minimum, except for Date Night and Ladies Night Inn
3-Night Stay, minimum, required for Outdoor Adventure Package
Packages are for two guests only, unless stated otherwise within the individual Package descriptions.
Because of our adult retreat style atmosphere, children under the age of 10 cannot be accommodated
Most importantly, when experiencing your stay at Spurs n Lace, take the time to relax, unwind, be pampered, and enjoy life.