Historic Old Colorado City and Railroad History
$350 plus room and tax for 2 nights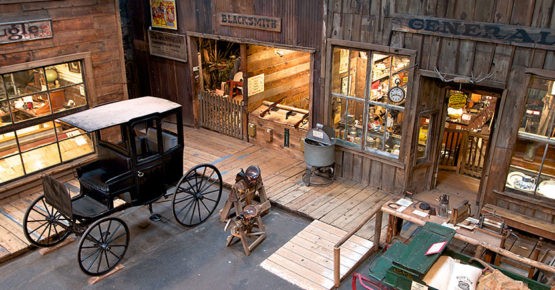 Learn, in person, the early history of Old Colorado City. After a restful night at Spurs n Lace and a delicious breakfast, begin your getaway by taking a tour of Old Colorado City, using the online web tour app, then stop by the Old Colorado City History Center and view the many displays. Have lunch at a local cafe, then drive to the Trolley Car Museum, housed within the remaining four stalls of the 1888 Rock Island Roundhouse. Each guided tour tells the story of street railways and railroads in Colorado Springs as well as the people who built them. Visit the restoration shop to see a trolley car being restored. Next visit the Steven Pelles Memorial Rock Island Museum. Here, a 70 foot baggage car houses a collection of Rock Island artifacts, memorabilia, and scale models. Best of all, take a streetcar ride in a 1947 SEPTA PCC streetcar along 500 feet of track. In the evening, dine at A local micro- brewery, housed within the 1889 Colorado Midland Roundhouse building. After a hot breakfast the following morning, drive on the gravel road, once the Colorado Springs & Cripple Creek railroad bed, between Bear Creek Canyon and Helen Hunt Falls, passing through two rock-hewn tunnels. A possible side trip is up Ute Pass to view the Divide Railroad Station, then on to Cripple Creek. Parts of this road were built atop the Colorado Midland / Midland Terminal Branch roadbed. Return to Old Colorado City for dinner at A local brew-pub, an old tavern featuring healthy comfort foods. After another great breakfast, visit Ghost Town Museum, a true preservation of Colorado's western past and a historic look back at an old west town.
Package includes:
Old Colorado City Tour App placed on your portable electronic device
Local Cafe Lunch Certificate ($30)
Trolley Car Museum Admission ($10)
Certificate for dinner at the Rocky Mountain Brewery  ($45)
Certificate for dinner at a local Tavern ($45)
Certificate of Admission for two for Ghost Town Museum ($25)
Home-cooked breakfasts
Before selecting a Getaway Package to create a future memory, please note the following restrictions:
Packages prices below do not include the room or taxes
Packages must be paid in full at time of booking and are non-refundable
Packages need to be reserved at least three days prior to arrival
2-Night Stay, minimum, except for Date Night and Ladies Night Inn
3-Night Stay, minimum, required for Outdoor Adventure Package
Packages are for two guests only, unless stated otherwise within the individual Package descriptions.
Because of our adult retreat style atmosphere, children under the age of 10 cannot be accommodated
Most importantly, when experiencing your stay at Spurs n Lace, take the time to relax, unwind, be pampered, and enjoy life.