Pamper Yourself with Victorian Comforts
Spurs n Lace Inn offers old world charm
in Colorado Springs
Spurs n Lace is a restored 1885 Queen Anne Victorian home that presents a cozy atmosphere of a bygone era. Nestled at the base of Pikes Peak, this exquisite home was reconstructed to offer cordial living at its best. With antique light fixtures, stained glass windows, crystal chandelier, and turned-spindle staircases, it is a showcase of yesterday's charm.
Surrounding the Inn is a stately wrought iron fence. The yard has been landscaped to invite the guests to explore the possibility of having a wedding, vow renewal, or just to relax and unwind.
Spurs n Lace is the perfect spot to be your home base while you visit the sights in the area, visit your children at the local colleges, relax after a day of business, or celebrate a Wedding, Anniversary, a Birthday, a Honeymoon or any other special time. Whatever brings you to the Pikes Peak Region, this is a perfect home base.
We are located just three blocks from the heart of Old Colorado City in Colorado Springs; you can easily walk to nearby restaurants, boutiques, and historical sites. You can also use one of the B&Bs bicycles and cycle to the Garden of the Gods or drive to the Seven Falls, Cave of the Winds, the Cog Railway, and many more tourist attractions within minutes.
Finding Spurs n Lace Inn Is Easy
This stately three-story Queen Anne Victorian home was built in 1885 and was moved in 1993 to its present location in Old Colorado City, the tourist section of Colorado Springs. The home was fully restored and converted to a B&B and has been a B&B ever since.
We are conveniently located in Old Colorado City within walking distance from some of the most charming shops, restaurants, and attractions in Colorado Springs.
2829 W Pikes Peak Ave, Colorado Springs, CO 80904
The Spurs n Lace Experience
After the luggage has been packed away and the treasures of your room have been discovered, it is time to explore the rest of the Inn. Ambling down the staircase and through the marble floored foyer, you enter the formal breakfast room where delicious breakfasts and interesting conversations happen each and every morning at 8 a.m. In the kitchen you can make a hot drink or read the daily paper.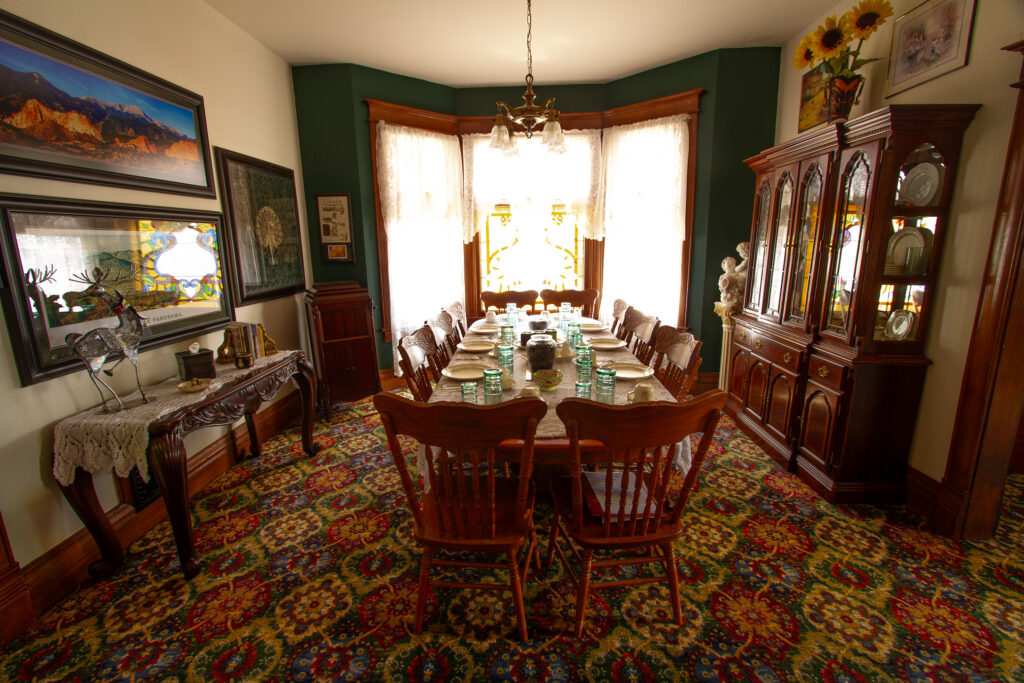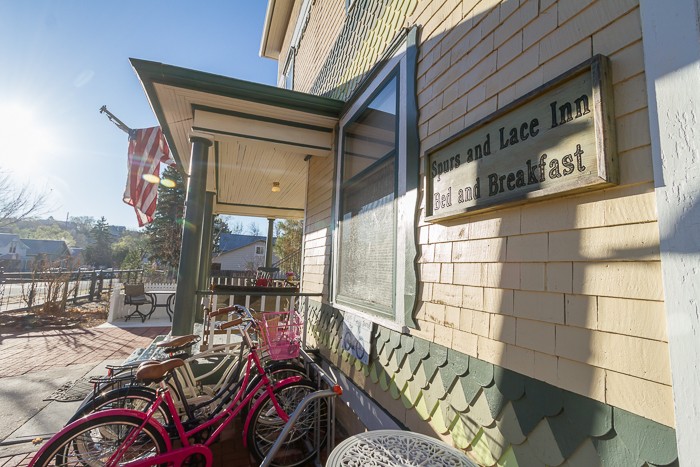 Next you may want to step out onto the front porch and find a comfortable chair or walk the stone pathway and observe the many carved bears who are also observing the view! Then you will want to sit in the gazebo with the one you are with, along with your favorite drink, and reminisce all the good times you have had, and plan special ones in your future.
Your breakfast experience will include an individual fruit dish, egg soufflé, and a freshly baked breakfast cake served at a community table. After breakfast, Arlene will hand-crank her nostalgic 1916 acoustic "Victrola," housed in its original mahogany cabinet.
The Dining Room seats 10 guests. There is a beautiful oak table and chairs facing a large stained glass window.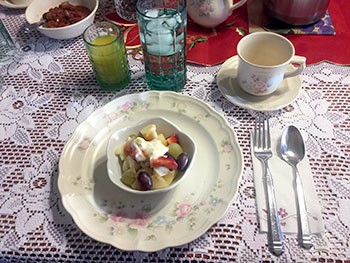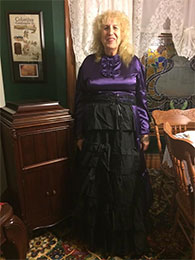 Innkeeper Arlene was born in Colorado Springs and spent her adolescent years in Old Colorado City, then known as the "Westside." She attended college, obtaining degrees in Architectural Design and Architectural Engineering, then had a 47-year career as an Architect, Design Engineer and Engineering Manager. She returned to Old Colorado City to be the Owner/Innkeeper of Spurs n Lace B&B.
Arlene has been an avid skier since high school. You may want to take a few moments to view her mid-1960s and early 1970s skis and boots, ranging from a set of 1950s wooden Northland's and leather boots (no ankle support) that were her first/learning skis, her mid-60s racing (slalom) Head laminated skis and lace up boots, to early 1970s K-2 race skis and one of the first buckle boots.